ATTENTION, nouveau contact professionnel en 2014
auprès de son agent :
Irène Jacob
Agence VMA
Christopher Robba
c.robba@vma.fr
ou
c.gast@vma.fr
Tel. 33 (0)1 43 17 37 00
20 avenue Rapp
75007 PARIS
site officiel agent
Nous ne pouvons transmettre les courriels personnels à Irène Jacob, merci d'envoyer un courrier à l'agence VMA.
We apologize: we cannot receive e-mail to Irene Jacob, please send a letter to her agent in Paris (see upside).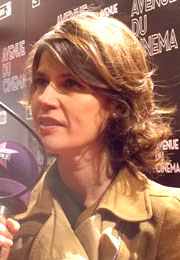 Contacter le site
www.irenejacob.net
pour toutes remarques,
questions, suggestions ou informations.